LOSE THE VOLUNTEER BLUES
Just like most business executives, I am passionate about helping our youths; consequently, I registered to provide STEM learning resources to the Scouting community. Please consider reaching out to your local Scouting Council and offer to be a Merit Badge Council and a Board Member. Here is a comprehensive list of Councils in the USA by State and County: http://bit.ly/2PcTV1d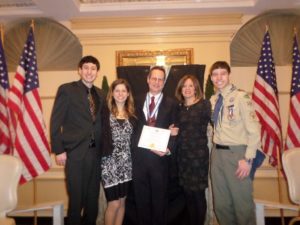 I just learned of another great group, I came across, Pencil. This is a non-profit firm that promotes a volunteer opportunity. You can be a pro-bono professional Advisor and Board Member to a School Principal, and create other student educational opportunities. There are many groups around the country that provide similar resources, just Google your County and Not for Profit, here is an example in New Jersey: http://www.njnonprofits.org/NPEducation.html. Pencil is serving the New York City area.
Pencil serves over 500 public school students (ages 16-22) annually through a competitive career readiness training program that culminates in a paid six-week summer internship at a company in New York City. Volunteers are a critical component of this program, serving as mentors, supervisors, and instructors.
Michael Haberman; is the CEO of Pencil. The Pencil is a voluntary organization, which is working hard to assist in fixing one of the greatest challenges fronting our nation; which happens to be the education tragedy. For instance, in New York City, 74.3% of the 1.1 million public school kids will finish. Additionally, even though a higher percentage of students are graduating citywide, less than half of city high school graduates are determined to be "college ready.", and we reckon that everybody can be involved in helping with the solutions. The group creates a perfect fit, they take individuals with amazing enterprise abilities, attach them with a community school head and assist them to fix a couple of the difficulties that will eventually lead to students attaining success.
In 2017 Pencil worked with 1,224 business volunteers to directly serve 2,500 public school students across all five boroughs of New York. Volunteers sign up with the Pencil organization, and are matched with one of the 500 schools, and there are various ways through which volunteers operate to provide assistance and encouragement. For instance, there is the A rap international engineering, this group has already started working with a high school in Brooklyn, and right there, they are assisting to link scientific and mathematical curriculum to real-life issues. As a result of this, the student has learned how bridges are constructed, they have been taught a lot about wind generators and, a year ago, they built their dance studio, and they have started making use of it. And there is also the international marketing company Ogilvy, Ogilvy is in partnership with several students to train them about the field of advertising and marketing, and in the course of the year, they set up their 360-degree marketing campaign with radio, Television, outside the office, and online; definitely motivating the students to realize that, when they are educated, there is practically nothing they cannot accomplish.  I think this is awesome.
Here are two photos of American Airlines providing student learning opportunities through Pencil.
The Pencil program is so wonderful that virtually any professional businessman or woman with talent will be a fantastic volunteer and partner with schools. If you happen to be a professional administrator, talented in marketing or even if you're merely enthusiastic about speaking with students on how you achieved your goals, we're the specialists at assisting you to understand how you can genuinely influence a public school.
For anyone who is enthusiastic and is interested in volunteering for Pencil, kindly visit www.pencil.org; News: https://pencil.org/pencil-news-clips/
There is still one thing which is common for good leaders and parents, and that is they both look for experts for professional support. Please keep me in mind as your life coach, openings for senior executive engagements, and board openings. If you hear of anything within your network that you think might be a positive fit, I'd so appreciate if you could send a heads up my way. [email protected]