PERSONAL BRANDING GETTING EASIER
PERSONAL BRANDING GETTING EASIER
I enjoy being an innovative pacesetter. I'm very fortunate that I have six special advisers that are on the ground to keep me abreast of the latest developments and that means I can keep up with what is trending globally in my fields of interests, which I've listed and is part of my branding message.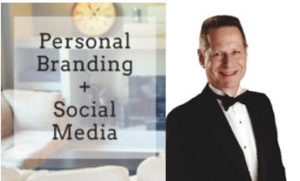 ♦ Artificial Intelligence
♦ Augmented Reality, Virtual Reality, and Immersive Technology
♦ Big Data
♦ Biotechnology and Nanotechnology
♦ Business Intelligence
♦ Composites
♦ Cybersecurity
♦ Fuel Cell Technology
♦ Internet of Things (IoT)
♦ SaaS Enterprise Software
♦ Sales and Marketing Growth Hacking
♦ Smart Grid and Battery Storage
♦ Social Media Software
♦ Supply Chain and Reverse Logistics
You may be asking yourself what is personal branding. Let's take a deeper dive, the majority of executives have given serious consideration to their brand, in fact, you may never thought you needed to pay attention to it. But the world has gone through a lot of changes, and we now have a high level of competition, and if we want to achieve success, we must stand out from the crowd. We have to distinguish ourselves and get ourselves established, and if we are going to achieve that, we need to have a brand and since people now know that branding is very important for their business.
Therefore, imagine yourself in a social function where you have a chance of making acquaintances and developing new business partnerships, and you have a business card with your photo on it. When you give it to people, they will, of course, be pleasantly surprised as it much easier for you to be rememberable, right? Now think about adding your LinkedIn profile web address to make it easier to connect. In fact, to any information, you wish like your social media links. Therefore it's a terrific way to refer people whatever you are offering.
I've taken time to get educated and gain an incredibly deep understanding of social media. I believe the use of video is extremely hot right now, and it's even getting hotter. An excellent way to get your message across to those who need to hear you by making use of videos. And think about it, you need to pass information to your boss, your team is scattered across the globe, and you must communicate with them, and you want to present yourself to people online beyond the written letters, how can you achieve this? Videos! It's a powerful tool that enables you to be communicative completely; it enables you to bond emotionally with other people, it is far superior to your regular reviews, email messages and what have you. Therefore, it provides you a superior platform, and a means to be unique. Several individuals would say that videos make them uncomfortable, facing a camera makes them feel awkward; but we're getting a lot more accustomed to it, right. We're carrying out Skype and Zoom calls with colleagues and family, and so it's a kind of desensitization; get yourself accustomed to it, you'll be fantastic on video, and right now it is making all the difference. It's time you have to come on board.
Many thanks for viewing this blog. Please share with your friends and colleagues. I look forward to being your professional Advisor and Board Member and would enjoy working with you to enhance your leadership skills. Please click on the chat app on the lower right or use this link to schedule a call www.calendly.com/clifflocks together to help you fulfill your vision of success and opportunities for you and your company to achieve its goals