Training and Retooling a Dynamic Workforce Using AR and VR
Training and Retooling a Dynamic Workforce Using AR and VR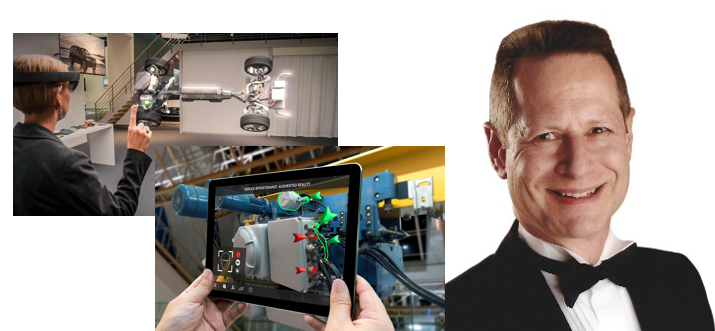 As I often tell my clients, people generally remember only 10 percent of what we see, 20 percent of what we hear, and 30 percent of what we read…. But over a staggering 90 percent of what we do or experience.
By introducing gamification, immersive testing activities, and visually rich sensory environments, adult literacy platforms have a winning chance at scalability, retention and user persistence.
Beyond literacy, however, virtual and augmented reality have already begun disrupting the professional training market.
As projected by ABI Research, the enterprise VR training market is on track to exceed $6.3 billion in value by 2022.
Leading the charge, Walmart has already implemented VR across 200 Academy training centers, running over 45 modules and simulating everything from unusual customer requests to a Black Friday shopping rush.
Then in September of last year, Walmart committed to a 17,000-headset order of the Oculus Go to equip every U.S. Supercenter, neighborhood market, and discount store with VR-based employee training.
In the engineering world, Bell Helicopter is using VR to massively expedite development and testing of its latest aircraft, FCX-001. Partnering with Sector 5 Digital and HTC VIVE, Bell found it could concentrate a typical six-year aircraft design process into the course of six months, turning physical mockups into CAD-designed virtual replicas.
But beyond the design process itself, Bell is now one of a slew of companies pioneering VR pilot tests and simulations with real-world accuracy. Seated in a true-to-life virtual cockpit, pilots have now tested countless iterations of the FCX-001 in virtual flight, drawing directly onto the 3D model and enacting aircraft modifications in real-time.
And in an expansion of our virtual senses, several key players are already working on haptic feedback. In the case of VR flight, French company Go Touch VR is now partnering with software developer FlyInside on fingertip-mounted haptic tech for aviation.
Dramatically reducing time and trouble required for VR-testing pilots, they aim to give touch-based confirmation of every switch and dial activated on virtual flights, just as one would experience in a full-sized cockpit mockup. Replicating texture, stiffness and even the sensation of holding an object, these piloted devices contain a suite of actuators to simulate everything from a light touch to higher-pressured contact, all controlled by gaze and finger movements.

Learn Anything, Anytime, at Any Age
When it comes to other high-risk simulations, virtual and augmented reality have barely scratched the surface.
Firefighters can now combat virtual wildfires with new platforms like FLAIM Trainer or TargetSolutions. And thanks to the expansion of medical AR/VR services like 3D4Medical or Echopixel, surgeons might soon perform operations on annotated organs and magnified incision sites, speeding up reaction times and vastly improving precision.But perhaps most urgently, Virtual Reality will offer an immediate solution to today's constant industry turnover and large-scale re-education demands.
VR educational facilities with exact replicas of anything from large industrial equipment to minute circuitry will soon give anyone a second chance at the 21st-century job market.
Want to become an electric, autonomous vehicle mechanic at age 44? Throw on a demonetized VR module and learn by doing, testing your prototype iterations at almost zero cost and with no risk of harming others.
Want to be a plasma physicist and play around with a virtual nuclear fusion reactor? Now you'll be able to simulate results and test out different tweaks, logging Smart Educational Record credits in the process.
As tomorrow's career model shifts from a "one-and-done graduate degree" to continuous lifelong education, professional VR-based re-education will allow for a continuous education loop, reducing the barrier to entry for anyone wanting to try their hand at a new industry.
Whether in pursuit of fundamental life skills, professional training, linguistic competence or specialized retooling, users of all ages, career paths, income brackets and goals are now encouraged to be students, no longer condemned to stagnancy.
As VR and artificial intelligence converge with demonetized mobile connectivity, we are finally witnessing an era in which no one will be left behind.
HR #leadership #business #CXO #CEO #CFO #Entrepreneur #WSJ #VC #socialmedia #Diversity #BigData #CorpGov #elearning #Marketing #Periscope #Recruiting #technology #startup #HRTech #Recruitment #sales #Healthcare #cloud #work
Please keep me in mind as your Executive Coach, openings for Senior Executive Engagements, and Board of Director openings. If you hear of anything within your network that you think might be a positive fit, I'd so appreciate if you could send a heads up my way. Email me: [email protected] or Schedule a call: Cliff Locks
Contributor: Peter Diamandis
Bringing artificial intelligence into your organization
Bringing artificial intelligence into your organization


The goal is to help you think about the specific benefits of artificial intelligence and the areas you can consider automating, in your organization or area of responsibility. Here are examples of successfully deployed artificial intelligence applications. When you need help reach out to me, my contact information is on the bottom of this post.
AI tool helps companies detect expense account fraud.
Employers across a range of industries are using artificial intelligence in a bid to curb questionable write-offs hidden within employee expense reports, writes Angus Loten for WSJ Pro.
The cost of fraud. The Association of Certified Fraud Examiners, in a report last year, analyzed nearly 2,700 global employee-expense fraud cases detected over the previous year that resulted in $7 billion in losses.
AI-based fraud detection. AppZen offers an auditing tool that works with popular expense-management software packages such as SAP SE's Concur or Chrome River Technologies Inc.'s Expense tool. AppZen can scour 100% of employee expense reports, according to the company. The tool's capabilities include computer vision that is able to read submitted receipts, deep learning that leverages training data to account for nuances or identify anomalies, and semantic analysis to organize objects and relationships, such as currencies, taxes and spend types.AI can speed, improve audits. Manual audits typically rely on only a random sampling of less than 10% of expense reports, allowing many erroneous or fraudulent claims to slip through undetected, says Anant Kale, AppZen's chief executive. And while manual audits can take days or even weeks to complete, AppZen's automated review takes only a few minutes to flag questionable items, the company says. These can include minor violations—such as accidental double entries for the same expense reported by separate employees, out-of-policy hotel mini-bar purchases or unapproved upgrades to first-class airline seats—to cases where outright fraud may be occurring.
Business Transformation
Foot Locker's game plan to win over sneakerheads. Foot Locker Inc., spurred by growing market pressure to offer a higher degree of personalization and on-demand services, is aiming to integrate and gather data from across its operations—everything from website clicks to delivery preferences—and then apply algorithms to the data to quickly and accurately glean market intelligence, often in real time.
To do all of this, Pawan Verma, chief information and customer connectivity officer at the New York-based sports footwear retailer, has boosted the company's tech staff roughly 30% over the past three years, while creating separate teams that work on data, apps, interfaces between apps and operating systems, artificial intelligence, augmented reality and machine learning. In an interview with WSJ Pro's Angus Loten, Mr. Verma spoke about the challenges of turning a 45-year-old shoe retailer into an agile, tech-driven venture for Gen Z "sneaker freaks" and working with data and artificial intelligence.
WSJ: What are your biggest challenges working with data, AI and emerging digital capabilities?Mr. Verma: There are several areas, but a key one is around security. We are collecting billions of events and using machine-learning software to find a signal from noise. For example, when we have a product launch, such as Nike Air Force or Jordan Retro, billions of bots mimicking customers will try to render our websites and mobile apps useless by staging distributed-denial-of-service attacks on our internal and cloud infrastructure. This can drive customers away from the products they want and impact the social currency of our brand. We created tools, with some vendor partnerships, that deflect bot traffic and protect the site.
Robots
Using robots to comfort the lonely. Sue Karp, who was forced to retire early by a stroke and now lives alone, begins every day by greeting her robot companion, ElliQ. The robot greets her back. "I've got dogs, but they don't exactly come up and say 'Good morning' in English," says Ms. Karp.
Robots pals. Intuition Robotics' ElliQ can ease senior loneliness, reports the WSJ's Christopher Mims. Studies have found that loneliness is worse for health than obesity or inactivity, and is as lethal as smoking 15 cigarettes a day. It's also an epidemic: A recent study from Cigna Corp. found that about half of Americans are lonely.
What ElliQ can do. ElliQ consists of a tablet, a pair of cameras and a small robot head on a post, capable of basic gestures like leaning in to indicate interest and leaning back to signal disengagement. ElliQ can also help its owner connect to family members. Through an app, ElliQ will prompt children and grandchildren to start video chats with their relative, send notes and links, and share photos.
Human-like responses. Unlike Amazon.com Inc.'s Alexa or similar voice-activated assistants, ElliQ is capable of spontaneous communication, has a wide variety of responses and behaves unpredictably. Its creators say this is essential to making it feel, if not alive, then at least present. It uses what its creators call cognitive AI to know when to interrupt with a suggestion—"Take your medicine"—and when to stay quiet, such as when a person has a visitor.Medicare Advantage might cover ElliQ. The robot is undergoing a trial with 100 participants conducted by researchers from Baycrest Health Sciences hospital in Toronto and the University of California San Francisco, at retirement communities in Palo Alto and Toronto, in part to verify that ElliQ alleviates feelings of loneliness. If so, the robot might be eligible for coverage under Medicare Advantage.
Human Capital
HR turns to artificial intelligence to speed recruiting. Human-resource departments are increasing turning to AI technologies that can help reduce the time to fill open positions, reports the Financial Times. Among the new tools:
• Machine learning devices that can go through huge numbers of applications to find candidates who match an employer's needs.
• Chatbots that can answer candidate questions and help screen early-stage candidates.
• Video systems that can be used to interview candidates and can help determine if a recruit is confident or passionate and issues.
While some HR tech firms claim their tools are free of bias, that hasn't proven to always be the case. The systems also need to be trained to effectively screen job candidates. And then there's the human tendency to overuse new tech tools, which could lead HR to add new steps to their existing processes and extend the hiring process.
Work in the age of AI. Employees and employers have a different perspective on how AI will change the workplace, according to a report in the MIT Sloan Management Review. Workers appear ready to embrace the changes that are coming. More than 60% of workers, according to an Accenture study, have a positive view of the impact of AI on their work. Business leaders, on the other hand, believe that only about one-quarter of their workforce is prepared for AI adoption.
Come together. But common ground can be found. It begins with senior executives seeking clarity around talent gaps and figuring out which skills their workers need. From there, execs should look at how to advance those skills for human-AI collaboration.A different way to view the world. This calls for a new way of looking at business. First, employers and employees must show each other that they're willing to adapt to a workplace built around people and intelligent machines. Second, worker education needs to embrace smart technologies to speed learning, expand thinking and bring out latent intelligence. And third, both parties must be motivated to learn and adapt.
#artificial intelligence #AI #innovation #HR #executive #business #CXO #CEOo #executive #success #work #follow #leadership #travel #corporate #office #luxury #entrepreneur #coaching #businessman #professional #aviation #excellence #development #motivation
Please keep me in mind as your Executive Coach, openings for Senior Executive Engagements, and Board of Director openings. If you hear of anything within your network that you think might be a positive fit, I'd so appreciate if you could send a heads up my way. Email me: [email protected] or Schedule a call: Cliff Locks
Contributor: Peter Diamandis