The robots are coming! Managers should work to incorporate skills training for the vibrancy of our organization
The robots are coming! Managers should work to incorporate skills training for the vibrancy of our organization
The robots are coming! On our sidewalks, in our skies, in our every store… Over the next decade, robots will enter the mainstream of retail. And the numbers back it up: in a mere 8 years, the global retail robotics market is projected to grow by an order of magnitude, from US$4.78 billion in 2018 to US$41.67 billion in 2026. As countless robots work behind the scenes to stock shelves, serve customers, and deliver products to our doorstep, the speed of retail will continue to increase. These changes were already underway, and the pandemic has accelerated them.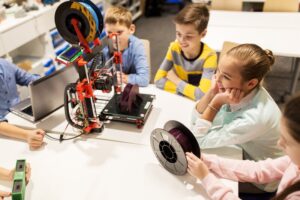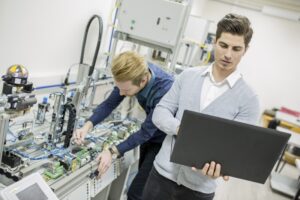 Reskill and Retrain
Manufacturers considering purchasing a robot should also consider investing in the training and upskilling of their existing employees. Reskilling existing workers will reduce the likelihood of redundancies and therefore improve the company's reputation as an employer — a common problem when reducing the number of employees but increasing automation.
Deploying robots, or any automation machinery for that matter, will create a new requirement for engineers with programming and maintenance skills. As opposed to employing a new programmer, manufacturers should consider training an existing production operative to take on this role — perhaps a worker whose role the robot will replace or reduce.
Several industrial robot manufacturers and suppliers will provide free training on how to correctly program and maintain their machinery, so it is worth looking into this before investing in external courses.  
It is also important to reiterate to existing workers that deploying robots will eliminate tedious and manual tasks. By nature, humans want to create, invent and solve problems — not complete repetitive movements such as box opening, bin-picking or basic assembly processes. This is particularly prevalent for workers with engineering backgrounds.
Communicating this benefit with staff is essential. Manufacturers need to be clear that, rather than engineering humans out of a job, robots can be used to allow operators to take on more challenging opportunities. But only of course, if plant managers allow it.
Robot Delivery
On August 3rd, 2016, Domino's Pizza introduced the Domino's Robotic Unit, or "DRU" for short. The first home delivery pizza robot, the DRU looks like a cross between R2-D2 and an oversized microwave. LIDAR and GPS sensors help it navigate, while temperature sensors keep hot food hot and cold food cold. Now called "DOM" (which is also the name of Domino's chatbot for placing orders), the robot has been undergoing trial runs in ten countries, including New Zealand, France, and Germany, but its August 2016 debut was critical, as it was the first time we'd seen robotic home delivery. And it won't be the last. A dozen or so different delivery bots are fast entering the market. Starship Technologies, for instance, a startup created by Skype founders Janus Friis and Ahti Heinla, has a general-purpose home delivery robot. Right now, the system is an array of cameras and GPS sensors, but upcoming models will include microphones, speakers, and even the ability—via AI-driven natural language processing—to communicate with customers. Since 2016, Starship has already carried out 500,000 deliveries across more than 20 countries. Along similar lines, Nuro—co-founded by Jiajun Zhu, one of the engineers who helped develop Google's self-driving car—has a miniature self-driving car of its own. Half the size of a sedan, the Nuro looks like a toaster on wheels, except with a mission. This toaster was designed to carry cargo—originally about 12 bags of groceries — which it has been doing for select Kroger stores since 2018. Two years later, the company has a new second-generation vehicle with a range of new features, including improved capacity, battery life, and safety measures. Concurrently, Nuro has partnered with large chains such as CVS Pharmacy and Walmart. As these delivery bots take to our streets, others are streaking across the sky. Back in 2016, Amazon came first, announcing Prime Air—the e-commerce giant's promise of drone delivery in 30 minutes or less. Almost immediately, companies ranging from 7-Eleven and Walmart to Google and Alibaba jumped on the bandwagon. Fast forward to today, and the FAA has granted approvals for drone delivery to Amazon, Alphabet-owned Wing, and UPS. Prime Air Vice President David Carbon has emphasized that "this certification is an important step forward for Prime Air and indicates the FAA's confidence… for an autonomous drone delivery service."
In-Store Robots
While delivery bots start to spare us trips to the store, those who prefer shopping the old-fashioned way (i.e., in person) also have plenty of human-robot interaction in-store. In fact, these robotics solutions have been around for a while. In 2010, SoftBank introduced Pepper, a humanoid robot capable of understanding human emotion. Pepper's cute: 4 feet tall, with a white plastic body, two black eyes, a dark slash of a mouth, and a base shaped like a mermaid's tail. Across her chest is a touch screen to aid in communication. And there's been a lot of communication. Pepper's cuteness is intentional, as it matches its mission: help humans enjoy life as much as possible. Over 12,000 Peppers have been sold and over 2,000 companies globally have adopted Pepper as an assistant. She serves ice cream in Japan, greets eaters at a Pizza Hut in Singapore, and interacts with customers at a Palo Alto electronics store. And with the COVID-19 pandemic, Pepper has been used to prepare food, greet customers, and ease loneliness caused by social distancing. More importantly, Pepper's got company. Walmart uses shelf-stocking robots for inventory control. Best Buy uses a robo-cashier, allowing select locations to operate 24-7. And Lowe's Home Improvement employs the LoweBot—a giant iPad on wheels—to help customers find the items they need while tracking inventory along the way.
Warehouse Bots
Yet the biggest benefit robots provide might be in warehouse logistics. In 2012, when Amazon dished out $775 million for Kiva Systems, few could predict that just eight years later, over 200,000 Kiva robots would be deployed at the company's fulfillment centers, helping to process hundreds of items per second. And many other retailers are following suit. Order jeans from the Gap, and soon they'll be sorted, packed, and shipped with the help of a Kindred robot. Remember the old arcade game where you picked up teddy bears with a giant claw? That's Kindred, only her claw picks up T-shirts, pants, and the like, placing them in designated drop-off zones that resemble tiny mailboxes (for further sorting or shipping). The big deal here is democratization. Kindred's robot is cheap and easy to deploy, allowing smaller companies to compete with giants like Amazon.
Final Thoughts
For retailers interested in staying in business, there doesn't appear to be much choice in the way of robotics. It's going to become increasingly difficult for store owners to justify human workers who call in sick, show up late, and can easily get injured. Robots work 24-7. They never take a day off, never need a bathroom break, health insurance, or parental leave. Going forward, this spells a growing challenge of technological unemployment (a blog topic I will cover in the coming month). But in retail, robotics usher in tremendous benefits for companies and customers alike. And while professional re-tooling initiatives and the transition of human capital from retail logistics to a booming experience economy take hold, robotic retail interaction and last-mile delivery will fundamentally transform our relationship with commerce.
Contributor: Peter Diamandis and Clifford Locks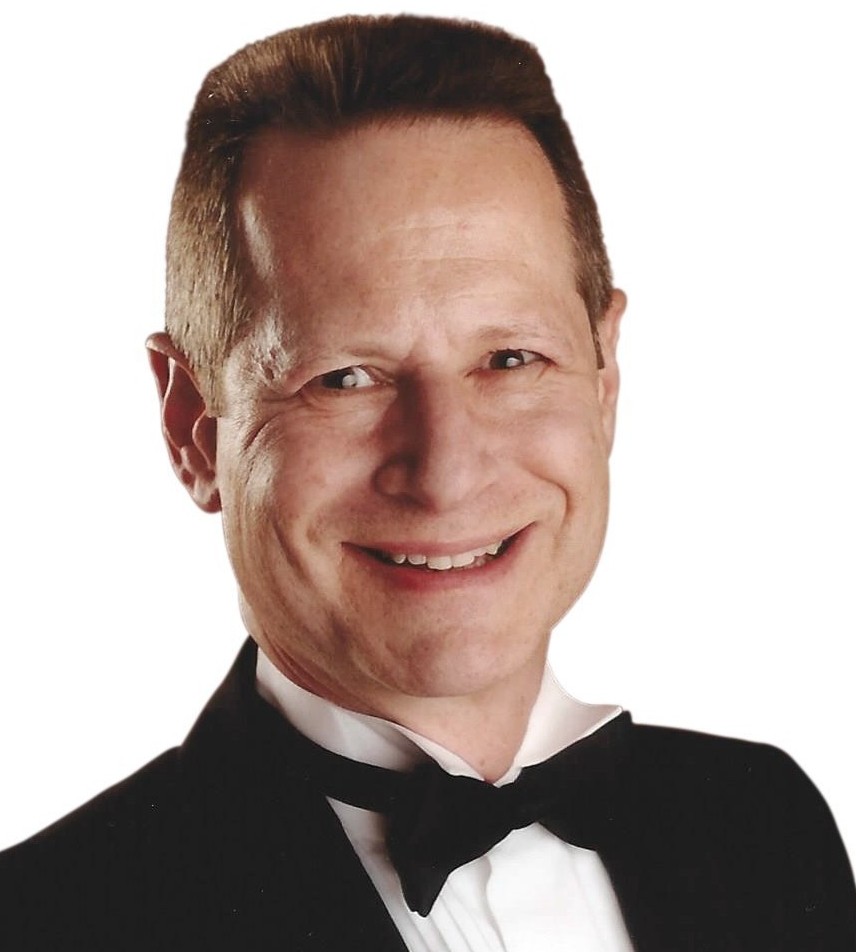 Cliff Locks is a trusted confidant to CEOs, C-Level Exec, and high-potential employees to help them clarify goals, unlock their potential, and create actionable strategic plans.
Certified Professional Board of Director and Advisor.
I am a trusted confidant and advisor available by Zoom and by phone to be your right-hand man, who will make a significant contribution and impact on your way to success.
As a Trusted Confidant Advisor, I support you, along with your company's strategic and annual operating plan. This plan may include marketing, sales, product development, supply chain, hiring policies, compensation, benefits, performance management, and succession planning.
Most successful leaders enjoy talking to someone about their experiences, which is why most develop a close relationship with a Trusted Confidant—a person with whom they feel free to share their thoughts, concerns, and ideas without fear of sharing too much or being judged by the people they lead, or their colleagues and superiors. I am a sounding board who will help you to better develop and see your ideas through to fruition.
The most effective Executive find confidants who complement their strengths and sharpen their effectiveness. Bill Gates uses Steve Ballmer in this way; Warren Buffett turns to vice chairman Charlie Munger. In the end, both the Executive and their organizations benefit from these relationships.
As your trusted confidant, I am always by your side, holding your deepest secrets and never judging. Everything discussed is held in complete confidence.
What many executives feel is missing from their busy life is a trusted business person who understands the holistic complexity of both their business and personal life.
I strive to provide solid financial, business, and family expertise and serve as a dispassionate sounding board, a role I like to call "Executive Confidant."
By holding a safe place for the Executive to work on life path issues as well as direction, I repeatedly see remarkable benefits as personal values become integrated with wealth and family decisions, enhancing a more meaningful life.
As an Executive Confidant, I welcome a confidential conversation about the most important issues facing the business leader, including:
• Strategic planning toward your visions of success and goal setting • Operations, planning, and execution • Career transition • Retirement • Legacy • Kids and money • Marriage and divorce • Health concerns • Values and life purpose • Vacations • Mentoring & depth of the executive bench • Succession planning
When I do my job well, I facilitate positive action in both your professional and personal life. This consistently has a positive benefit on impacting people within the sphere of your influence.
The job of an Executive can be lonely. For various reasons, confiding in colleagues, company associates, family members, or friends presents complications. Powerful, successful, and wealthy individuals often isolate themselves as a protective reaction because of their inability to find people they can trust and confide in.
Successful people are often surrounded by many people, yet they insulate and isolate themselves to varying levels of degree. This isolation factor is not often discussed in the same context because the assumption is that success and wealth only solve problems. The false belief is that it does not create more problems, when, in fact, sometimes it creates a unique set of new challenges. Success and wealth do not insulate you from the same pitfalls that the everyday person faces. It may give you access to better solutions perhaps, and that is what I can help you achieve. Financial business success can create unique vulnerabilities, often overlooked as most people feel that the "problems" of the wealthy are not real-life problems.
The Executive Confidant can be particularly helpful when:
• Aligning life priorities with the responsibilities of wealth. • Wanting more meaning and purpose in life. • Desiring a candid and experienced perspective. • The answers often come from within, and we cannot arrive at them easily. • Clarity often comes into focus, with skilled questions and guided discovery. The right questions can be the first step in achieving ideal outcomes.
Who can you turn to when you need to find clarity? Who is your "Executive Confidant"?
Referrals to a team members or family members are always welcome.
Email me: [email protected] or Schedule a call: Cliff Locks OptimizeLife #CEO #CFO #COO #BoD #CXO #Professionalpedia #TeamBuilder #success #beyourself #goals #lifeisgood #Influencer #Successful #Business #WorkLife #OfficeLife #Work #Office #Inspiration #Marketing #Tips #Leadership #BusinessIntelligence #InvestmentCapitalGrowth