Download Our SWOT Development Guide Today!
25 Questions To Guide The Development Of Your SWOT Analysis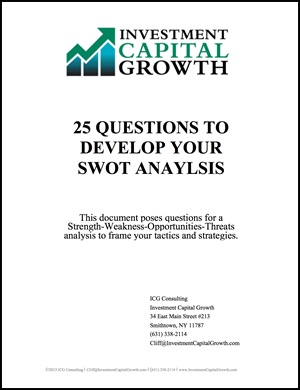 As you plan for the future of your business, it's important to assess your Strenghts, Weaknesses, Opportunities and Threats to success. SWOT is a standard of executive analysis that helps focus your efforts on the big picture. Use this whitepaper to guide your process by answering these twenty-five important questions.
Completing this analysis will help you answer these critical questions:
Where Are We?

Where Do We Want To Go?

How Will We Get There?
A Strenghts-Weaknesses-Opportunities-Threats (SWOT) analysis of your company is a simple framework that can become the basis for both your annual operating plan and your longer-term strategic planning. Get started today!
Start your SWOT Analysis now by filling out our form —>