Exponential growth is happening all around us, but it can be hard to see.
Exponential growth is happening all around us, but it can be hard to see.
Given the restrictions of our linear thinking minds, it's difficult for us to grasp how something that starts off deceptively small can…
Double 10 times, resulting in 1,000x growth, and
Double 30 times and get you to 1,000,000,000x growth.
Part of overcoming this evolutionary bias is actively working to develop an Exponential Mindset. Today, I'm going to share and explore the overwhelming "proof of exponentials." Proof ranging from accelerating computing power and internet access, to the digitization of retail and the rapidly falling costs of sequencing the human genome. Proof that offers all of us "data-driven optimism." Let's dive in…
Moore's Law Continues…
Almost all of our exponential tech trends discussed in this blog are being built on top of ever-increasing computational power. For the past ~70+ years, Moore's Law, the exponential growth of computing power has continued non-stop. The chart below, plotted on a log-scale, demonstrates this trend.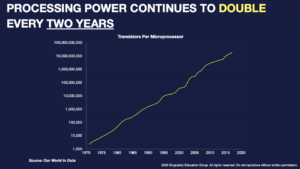 Computers are also becoming much more efficient. Processing efficiency is measured as the number of watts needed per million instructions per second (watts per MIPS). As you can see in the below chart, processing efficiency has increased by a factor of 100,000 since 1990.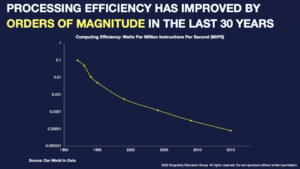 With continued advances in quantum computing, we'll see an explosion of information-processing capability. By 2023, IBM expects to reach 1,121 qubits with their processor codenamed Condor. As you can see in the below chart, this would be a 17-fold increase from today. IBM sees 2023 as the inflection point for the commercialization of quantum technology.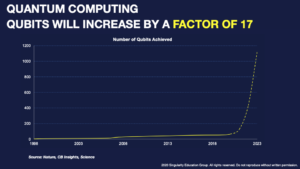 One key effect of continued improvements in computation is an explosion of the total amount of information produced. Between now and 2025, we will produce 3x the amount of information and data globally.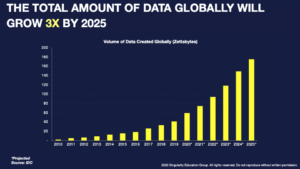 The Internet Continues its Explosive Growth
Since 2010, the number of internet users worldwide has doubled while global internet traffic has grown twelvefold. At the same time, rapid improvements in energy efficiency have helped to limit energy demand growth from data centers and data transmission networks, which combined accounted for just 1% of global electricity use in 2019.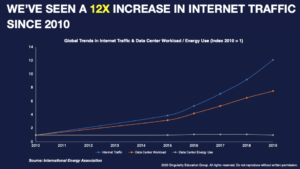 Today, nearly 60% of the world's population has access to the internet. We passed the 50% milestone in 2018 and this trend is only accelerating. As I've written previously, with such progress, internet access may soon become a universal human right.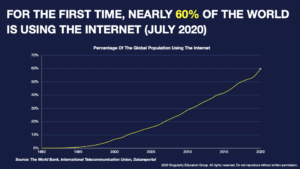 Another way to appreciate just how much and how quickly the internet has grown is to look at the number of internet searches conducted. For example, as you can see in the below chart the number of Google searches alone has increased by 2,000x during the last 20 years.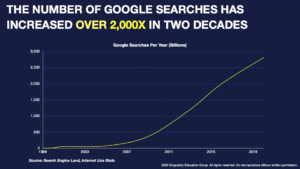 One factor that has made such a dramatic increase in internet searches possible is the increasing speed of an end user's connection, which is measured in megabits per second (Mbps). As you can see below, end user connection speed has jumped 10x in the last decade alone.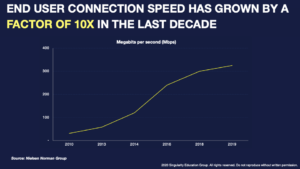 Mobile Devices, Smartphones & 5G Growing Rapidly
After an extended period of exponential growth, the number of mobile subscriptions globally is greater than the number of all people on Earth. Given the total number of mobile subscriptions in the world, as of 2019 global mobile penetration was 108%.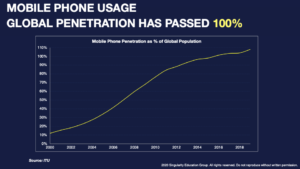 In the US, the share of Americans who own a smartphone is 81%. According to the Pew Research Center, this is a 50% increase from when the organization first started collecting this data in 2011.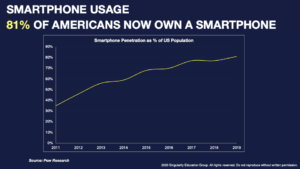 The advancement of 5G networks and technology will both accelerate and enhance mobile and smartphone adoption. Ericsson projects that there will be 80 million 5G mobile subscriptions by the end of 2020. That number will then balloon to 2.8 billion in 2025.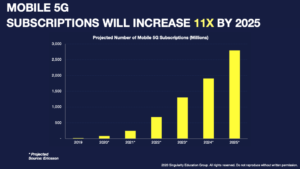 We'll also see an explosion of all sorts of connected devices. Cisco estimates that by 2022 (just a few years away), we'll have over 1 billion total connected wearable devices in the world.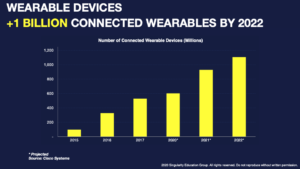 Some of the most dramatic growth in devices and hardware will come from VR & AR headsets. Research firm IDC estimates that between now and 2024 we will see a 10x growth in global VR & AR headset shipments worldwide.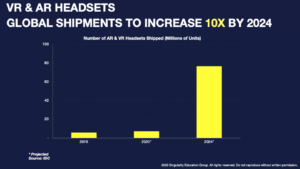 Dramatic Growth in Battery Technology We'll need a significant increase in battery storage to power all of these devices. According to McKinsey, by 2024 we will see a 17x increase in battery demand.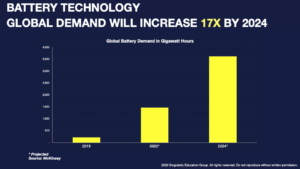 Growth of Digital Memory Storage
DRAM (dynamic random-access memory) is a type of memory chip used in most desktop and laptop computers. Demand for DRAM chips has been increasing for years, and over the next three years we'll see at least an additional 100 billion 1 GB equivalent modules shipped globally.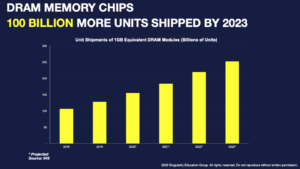 Electric Vehicles (EVs) and Solar Energy With rapid growth in electric car sales over the past decade, electric cars now make up about 1% of the global car fleet.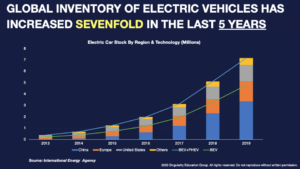 Solar generation is one of humanity's major renewable energy sources. We saw massive growth of solar during the last decade, increasing by a factor of twenty from 2010 to 2019.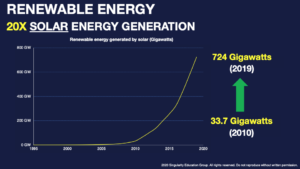 The Digitization of Retail
Global retail e-commerce sales more than doubled from $1.5 trillion in 2015 to $3.5 trillion in 2019. That trend will only continue. By 2023, global e-commerce sales are projected to be almost $7 trillion.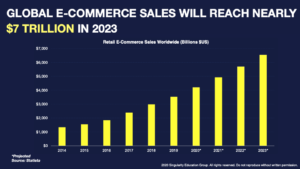 Growth of Industrial Robots
The market for industrial robots has been growing at record rates of 19% per year since 2013, and is expected to continue double-digit growth at least through 2021.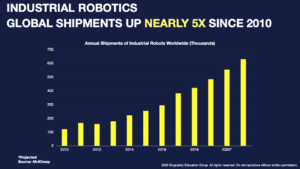 3D Printing Adoption
In 2018, the global additive manufacturing market grew to over $10.4 billion, crossing the pivotal double-digit billion threshold for the first time in its decades-long history.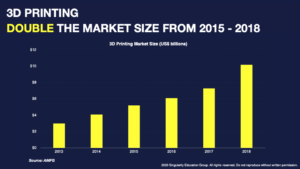 Exponential Growth in Biotech The below chart shows the progress we have made in reducing the cost of sequencing the human genome. In 2008, that progress began to exceed Moore's Law. This rapid growth continues and direct-to-consumer genome sequencing is now widely available.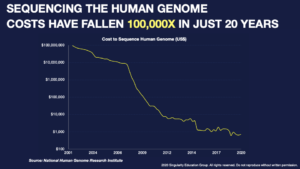 NIH funding for CRISPR-related research grew from $5 million in 2011 to $1.1 billion in 2018. During that time, the number of CRISPR-related scientific publications increased by a factor of 45x.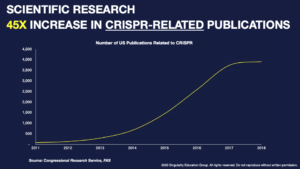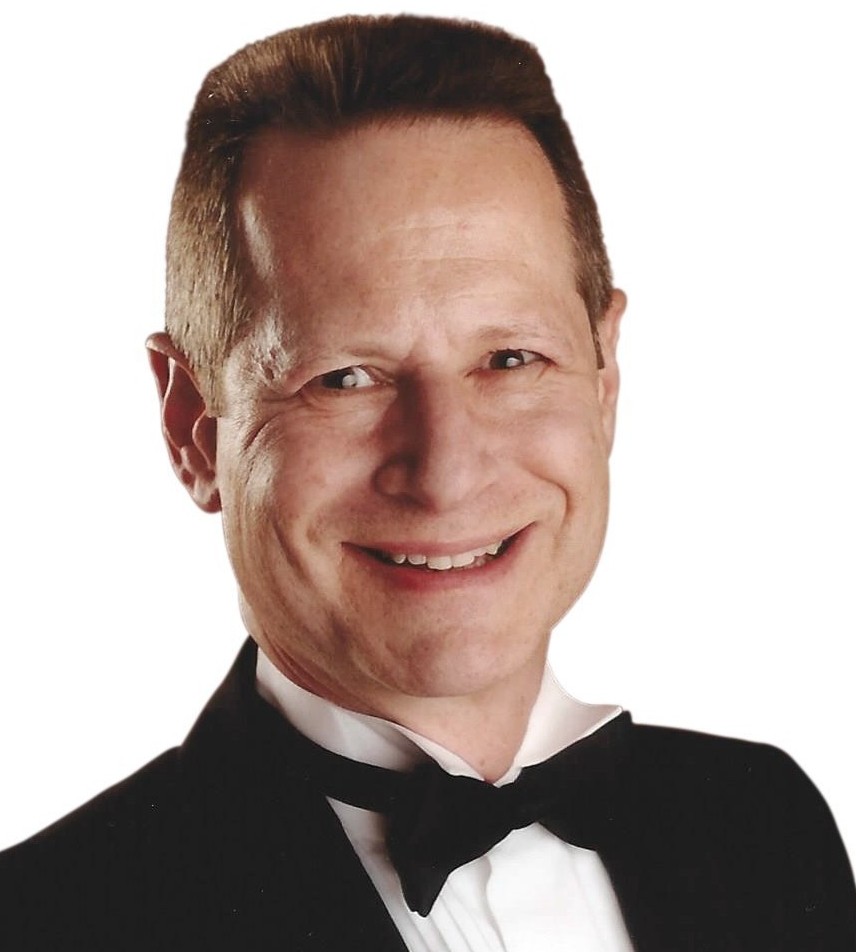 Cliff Locks is a trusted confidant to CEOs, C-Level Exec, and high-potential employees to help them clarify goals, unlock their potential, and create actionable strategic plans.
Certified Professional Board of Director and Advisor.
I am a trusted confidant and advisor available by Zoom and by phone to be your right-hand man, who will make a significant contribution and impact on your way to success. As a Trusted Confidant Advisor, I support you, along with your company's strategic and annual operating plan. This plan may include marketing, sales, product development, supply chain, hiring policies, compensation, benefits, performance management, and succession planning. Most successful leaders enjoy talking to someone about their experiences, which is why most develop a close relationship with a Trusted Confidant—a person with whom they feel free to share their thoughts, concerns, and ideas without fear of sharing too much or being judged by the people they lead, or their colleagues and superiors. I am a sounding board who will help you to better develop and see your ideas through to fruition. The most effective Executive find confidants who complement their strengths and sharpen their effectiveness. Bill Gates uses Steve Ballmer in this way; Warren Buffett turns to vice chairman Charlie Munger. In the end, both the Executive and their organizations benefit from these relationships. As your trusted confidant, I am always by your side, holding your deepest secrets and never judging. Everything discussed is held in complete confidence. What many executives feel is missing from their busy life is a trusted business person who understands the holistic complexity of both their business and personal life. I strive to provide solid financial, business, and family expertise and serve as a dispassionate sounding board, a role I like to call "Executive Confidant." By holding a safe place for the Executive to work on life path issues as well as direction, I repeatedly see remarkable benefits as personal values become integrated with wealth and family decisions, enhancing a more meaningful life. As an Executive Confidant, I welcome a confidential conversation about the most important issues facing the business leader, including: • Strategic planning toward your visions of success and goal setting • Operations, planning, and execution • Career transition • Retirement • Legacy • Kids and money • Marriage and divorce • Health concerns • Values and life purpose • Vacations • Mentoring & depth of the executive bench • Succession planning When I do my job well, I facilitate positive action in both your professional and personal life. This consistently has a positive benefit on impacting people within the sphere of your influence. The job of an Executive can be lonely. For various reasons, confiding in colleagues, company associates, family members, or friends presents complications. Powerful, successful, and wealthy individuals often isolate themselves as a protective reaction because of their inability to find people they can trust and confide in. Successful people are often surrounded by many people, yet they insulate and isolate themselves to varying levels of degree. This isolation factor is not often discussed in the same context because the assumption is that success and wealth only solve problems. The false belief is that it does not create more problems, when, in fact, sometimes it creates a unique set of new challenges. Success and wealth do not insulate you from the same pitfalls that the everyday person faces. It may give you access to better solutions perhaps, and that is what I can help you achieve. Financial business success can create unique vulnerabilities, often overlooked as most people feel that the "problems" of the wealthy are not real-life problems. The Executive Confidant can be particularly helpful when: • Aligning life priorities with the responsibilities of wealth. • Wanting more meaning and purpose in life. • Desiring a candid and experienced perspective. • The answers often come from within, and we cannot arrive at them easily. • Clarity often comes into focus, with skilled questions and guided discovery. The right questions can be the first step in achieving ideal outcomes. Who can you turn to when you need to find clarity? Who is your "Executive Confidant"? Referrals to a team members or family members are always welcome. Email me:

[email protected]

or Schedule a call: Cliff Locks OptimizeLife #CEO #CFO #COO #BoD #CXO #Professionalpedia #TeamBuilder #success #beyourself #goals #lifeisgood #Influencer #Successful #Business #WorkLife #OfficeLife #Work #Office #Inspiration #Marketing #Tips #Leadership #BusinessIntelligence #InvestmentCapitalGrowth