Training and Retooling a Dynamic Workforce Using AR and VR
Training and Retooling a Dynamic Workforce Using AR and VR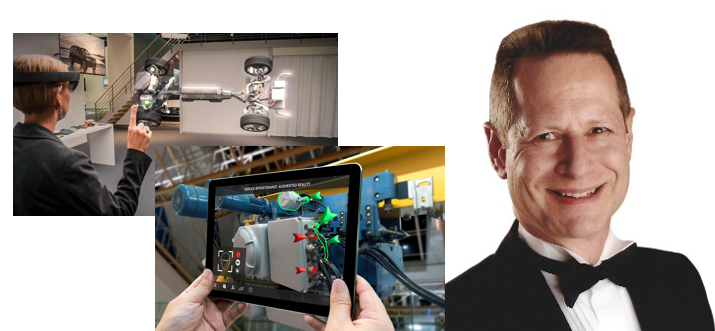 As I often tell my clients, people generally remember only 10 percent of what we see, 20 percent of what we hear, and 30 percent of what we read…. But over a staggering 90 percent of what we do or experience.
By introducing gamification, immersive testing activities, and visually rich sensory environments, adult literacy platforms have a winning chance at scalability, retention and user persistence.
Beyond literacy, however, virtual and augmented reality have already begun disrupting the professional training market.
As projected by ABI Research, the enterprise VR training market is on track to exceed $6.3 billion in value by 2022.
Leading the charge, Walmart has already implemented VR across 200 Academy training centers, running over 45 modules and simulating everything from unusual customer requests to a Black Friday shopping rush.
Then in September of last year, Walmart committed to a 17,000-headset order of the Oculus Go to equip every U.S. Supercenter, neighborhood market, and discount store with VR-based employee training.
In the engineering world, Bell Helicopter is using VR to massively expedite development and testing of its latest aircraft, FCX-001. Partnering with Sector 5 Digital and HTC VIVE, Bell found it could concentrate a typical six-year aircraft design process into the course of six months, turning physical mockups into CAD-designed virtual replicas.
But beyond the design process itself, Bell is now one of a slew of companies pioneering VR pilot tests and simulations with real-world accuracy. Seated in a true-to-life virtual cockpit, pilots have now tested countless iterations of the FCX-001 in virtual flight, drawing directly onto the 3D model and enacting aircraft modifications in real-time.
And in an expansion of our virtual senses, several key players are already working on haptic feedback. In the case of VR flight, French company Go Touch VR is now partnering with software developer FlyInside on fingertip-mounted haptic tech for aviation.
Dramatically reducing time and trouble required for VR-testing pilots, they aim to give touch-based confirmation of every switch and dial activated on virtual flights, just as one would experience in a full-sized cockpit mockup. Replicating texture, stiffness and even the sensation of holding an object, these piloted devices contain a suite of actuators to simulate everything from a light touch to higher-pressured contact, all controlled by gaze and finger movements.

Learn Anything, Anytime, at Any Age
When it comes to other high-risk simulations, virtual and augmented reality have barely scratched the surface.
Firefighters can now combat virtual wildfires with new platforms like FLAIM Trainer or TargetSolutions. And thanks to the expansion of medical AR/VR services like 3D4Medical or Echopixel, surgeons might soon perform operations on annotated organs and magnified incision sites, speeding up reaction times and vastly improving precision.But perhaps most urgently, Virtual Reality will offer an immediate solution to today's constant industry turnover and large-scale re-education demands.
VR educational facilities with exact replicas of anything from large industrial equipment to minute circuitry will soon give anyone a second chance at the 21st-century job market.
Want to become an electric, autonomous vehicle mechanic at age 44? Throw on a demonetized VR module and learn by doing, testing your prototype iterations at almost zero cost and with no risk of harming others.
Want to be a plasma physicist and play around with a virtual nuclear fusion reactor? Now you'll be able to simulate results and test out different tweaks, logging Smart Educational Record credits in the process.
As tomorrow's career model shifts from a "one-and-done graduate degree" to continuous lifelong education, professional VR-based re-education will allow for a continuous education loop, reducing the barrier to entry for anyone wanting to try their hand at a new industry.
Whether in pursuit of fundamental life skills, professional training, linguistic competence or specialized retooling, users of all ages, career paths, income brackets and goals are now encouraged to be students, no longer condemned to stagnancy.
As VR and artificial intelligence converge with demonetized mobile connectivity, we are finally witnessing an era in which no one will be left behind.
HR #leadership #business #CXO #CEO #CFO #Entrepreneur #WSJ #VC #socialmedia #Diversity #BigData #CorpGov #elearning #Marketing #Periscope #Recruiting #technology #startup #HRTech #Recruitment #sales #Healthcare #cloud #work
Please keep me in mind as your Executive Coach, openings for Senior Executive Engagements, and Board of Director openings. If you hear of anything within your network that you think might be a positive fit, I'd so appreciate if you could send a heads up my way. Email me: [email protected] or Schedule a call: Cliff Locks
Contributor: Peter Diamandis